KG Friends / Donate
KGフレンズ / 寄付について
Let's make an amazing festival together ?

Through the FRIENDs of KYOTOGRAPHIE program, we invite you to become a valued member of the festival. As a Friend you will contribute in bringing world class exhibitions to Kyoto, inspire a greater appreciation and understanding of photography, explore issues that affect us all and educate through our extensive Public Programs.
In acknowledgement of your support you will enjoy special bene ts, discounts and invitations to KYOTOGRAPHIE VIP events during the festival.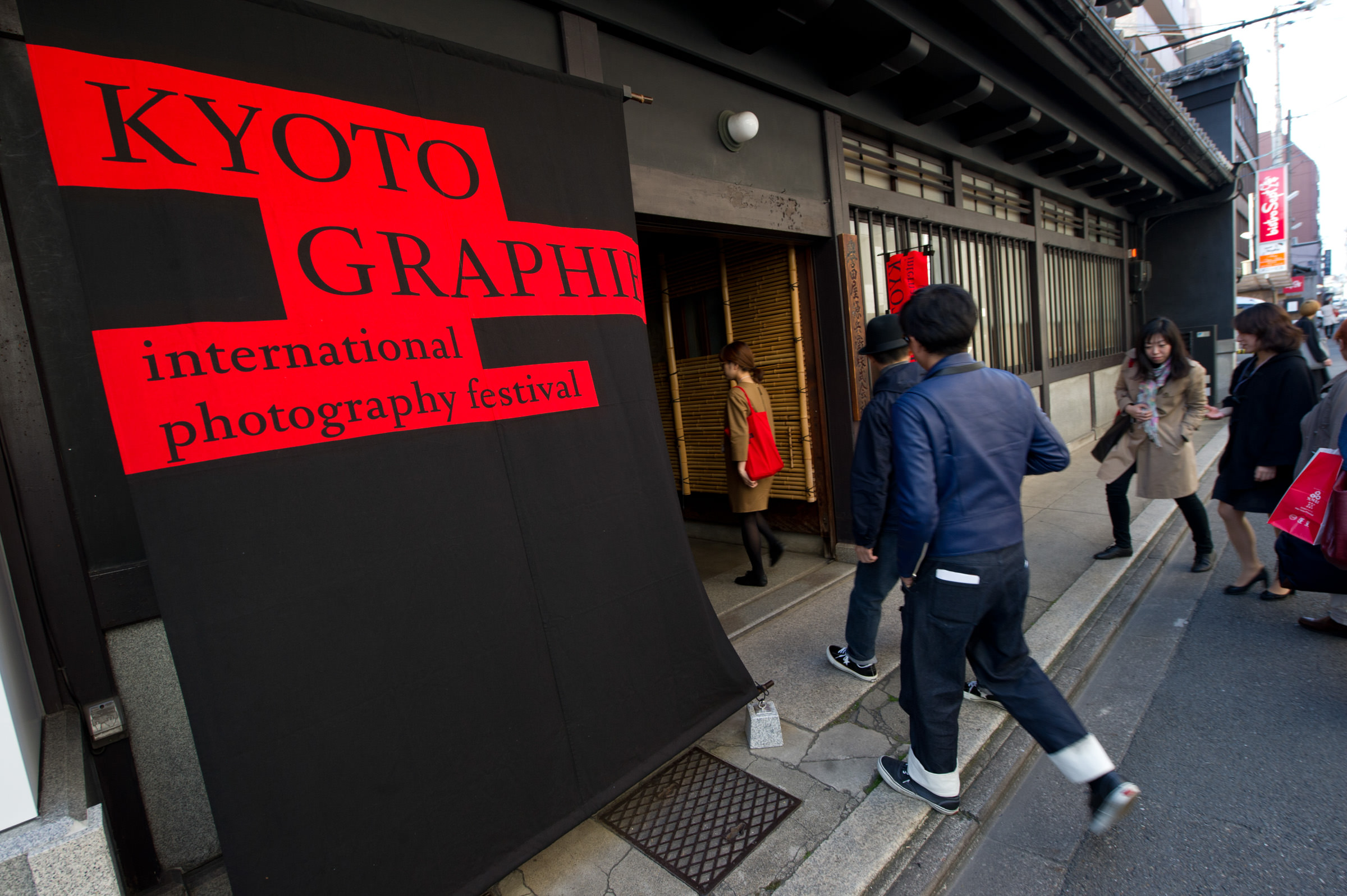 2019 Member benefits
FRIEND

Single: ¥20,000
Duo: ¥35,000
SILVER
FRIENDSingle: ¥100,000
Duo: ¥170,000
GOLD
FRIENDSingle: ¥300,000
Duo: ¥500,000

1. VIP Passport Ticket

2. KYOTOGRAPHIE 2019 Catalogue

3. KYOTOGRAPHIE Tote Bag

4. KYOTOGRAPHIE Postcard set

5. Invitation to the VIP Preview Day

(4.12 Fri.)

6. Invitation to the CROSSING Party

(4.14 Sun.)

7. Invitation to the Opening Reception

(4.12 Fri.)

8. Hakuchikudo's exclusive fan signed by Teppei Kaneuji

9. Signed book by Weronika Gesicka

10. Invitation to the VIP Reception

(4.13 Sat.)

11. Listed in the 2020 catalogue as a 'Friend Benefactor'
1. The named pass provides unlimited access to KYOTOGRAPHIE's exhibitions.
5. During the VIP preview, you will be able to meet the artists and curators at their exhibitions.This special preview is one day prior to the official public opening.
6. The "CROSSING―Portfolio Review & KG+ Party" at Hyatt Regency KYOTO gathers photographers, reviewers, KYOTOGRAPHIE artists, KG+ artists and KYOTOGRAPHIE organizers. This is an opportunity to meet and connect with people in the field of photography. For the CROSSING―Portfolio Review & KG+ Party, please provide your name at the entrance to receive a free entrance ticket and a complimentary drink ticket.
7. The Opening Reception is an exclusive event that gathers KYOTOGRAPHIE artists, sponsors and organizers to celebrate the new edition. Please wait to receive your invitation via post. This invitation is strictly for the person named, please bring the invitation and envelope.
8. Hakuchikudo, the famous Kyoto fan maker, will produce an exclusive fan for KYOTOGRAPHIE using a Teppei Kaneuji design. « Silver Friend & Gold Friend » will receive a special signed fan.
9. Weronika Gesicka's book, Traces presents a selection of photomontages created on the basis of American stock photographs from the 1950s and 1960s. Family scenes, holiday memories, everyday life – all of that suspended somewhere between truth and fiction.
10. The VIP Reception is an exclusive reception gathering KYOTOGRAPHIE artists, sponsors and organizers in an exclusive Kyoto venue. Please wait to receive your invitation via post. This invitation is strictly for the person named, please bring the invitation and envelope.
How to be a KG FRIEND?
Paypal

To become a FRIEND you can transfer the amount directly on our website by Paypal.
You don't need to create a PayPal account if you have a credit card (VISA, MasterCard, American Express card , JCB) and an e-mail address.
Bank Deposit

Proceed to the bank transfer by specifying in the title your name + the mention « Friends »

Beneficiary Bank:
THE BANK OF TOKYO-MITSUBISHI UFJ, LTD.
SWIFT code / BIC code: BOTKJPJT (8 number) / BOTKJPJTXXX (11 number)
Branch Name: DEMACHI BRANCH
257 DEMACHI-DORI IMADEGAWA-AGARU SEIRYU-CHO
KAMIGYO-KU KYOTO-SHI KYOTO 602-0822 JAPAN
Beneficiary Account Number: 506-0120577 Beneficiary Name: KYOTOGRAPHIE Inc.
For those paying via bank transfer, please contact us in advance by email.
Donate via Fund for Culture

Tax Deduction for Donations only applies to Japanese citizens.
For more details, please contact us. friends@2019.kyotographie.jp
Partner / Sponsor plan

Please note that the Friends of KYOTOGRAPHIE offer a personal membership, If you are a company and want to support the festival please inquire at partners@kyotographie to receive our partner / sponsor plan.