Public Events
パブリックイベント
In Conversation: Shunga and Aesthetics
In Conversation: Shunga and Aesthetics
4.13 Sat. 13:00-14:30
Kondaya Genbei Chikuin-no-Ma

[JP]
Free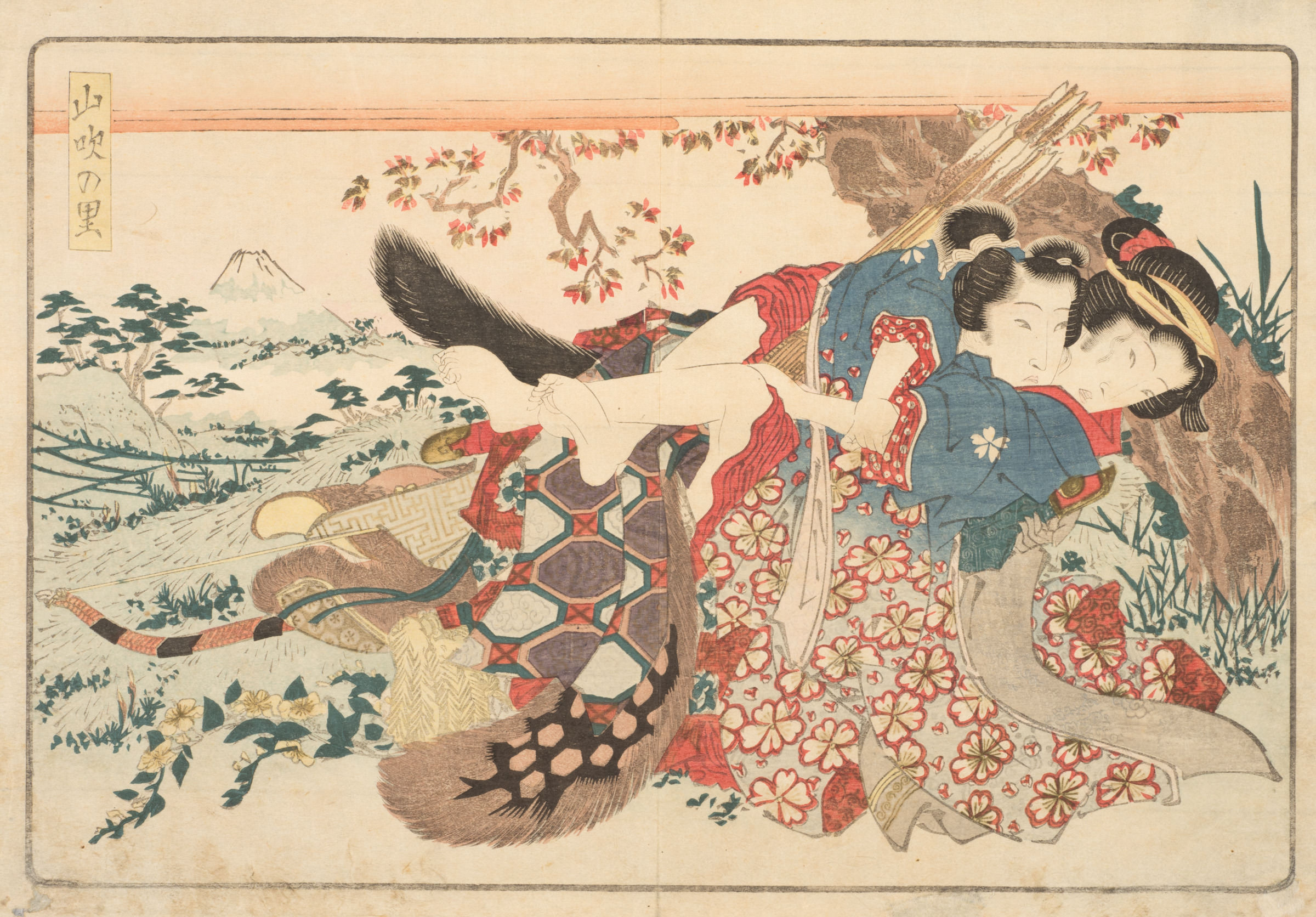 Light Snow in Spring (Haru no usuyuki) / Keisai Eisen / 1822
Uragami Mitsuru collection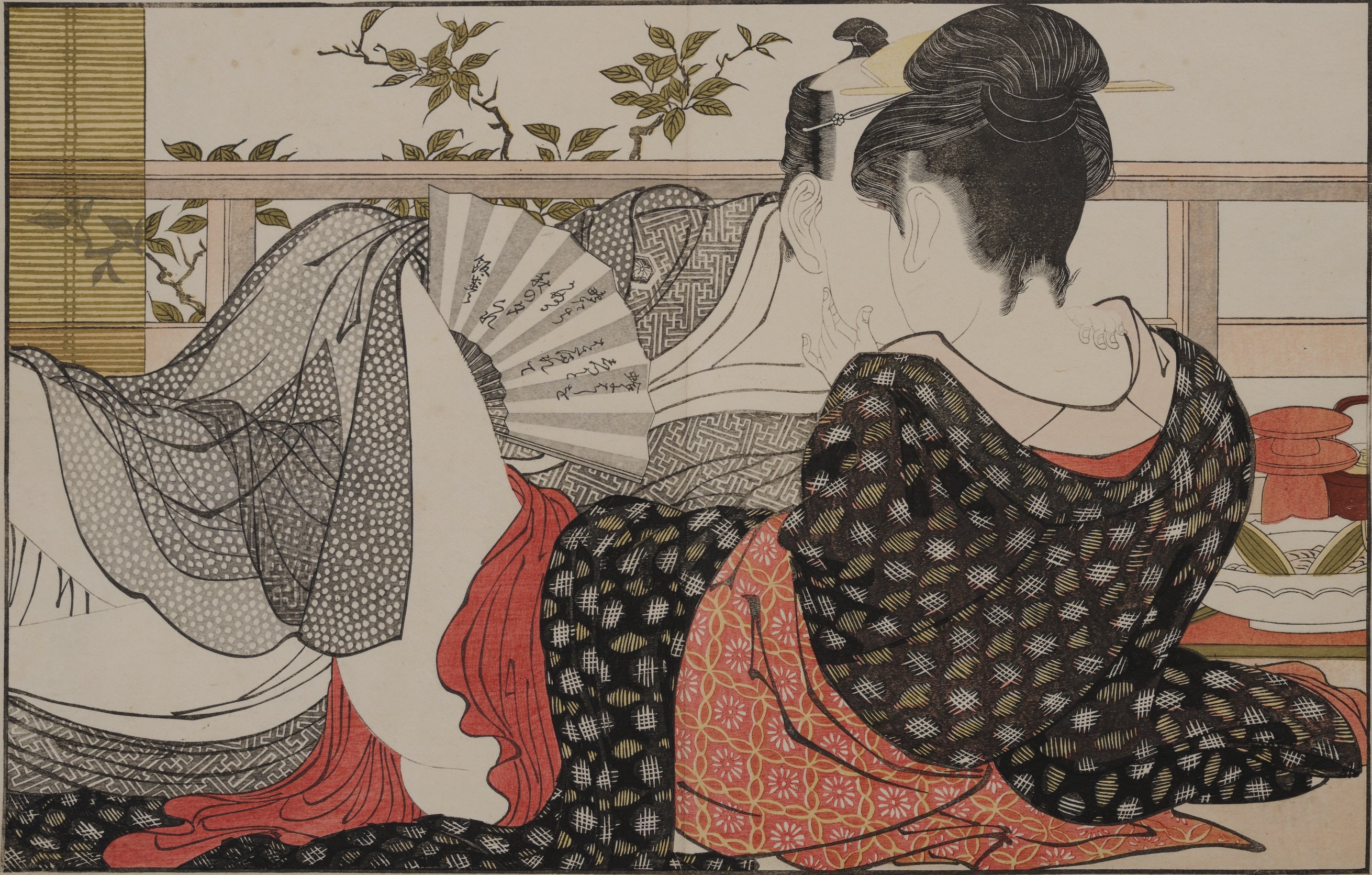 喜多川歌麿「歌まくら」天明8年(1788)浦上満氏蔵
Join us to discover the Uragami Sokyu-do's Mitsuru Uragami Collection. Uragami and Yamaguchi will discuss the aesthetics of Shunga, by looking at key pieces shown in the exhibition they reveal often overlooked intricacies in clothing and ornamentation, these details can tell us a lot about the time and the scene, also divulge interesting facts about artists and pieces explored.

This exhibition will feature Synonyms, the latest series of photographs by the French performance artist and photographer, Pierre Sernet, together with shunga, a genre of Japanese art that has received increased international attention in recent years. Sernet's photographs portray intimately engaged nude couples, expressed as black-and-white silhouettes. In a similar vein, we will also be presenting numerous famous shunga belonging to Uragami Sokyu-do's Mitsuru Uragami Collection. During the Edo period (1603–1868) shunga was a popular genre and many of the great woodblock print artists, including Suzuki Harunobu, Kitagawa Utamaro, Katsushika Hokusai, etc. turned their hand to it. Shunga were later to have a strong influence on the Impressionists and Pablo Picasso in the West. This exhibition offers a unique opportunity to enjoy the contrast between the fine lines, color and bold compositions of the Edo prints and Sernet's contemporary photographic representation of shunga.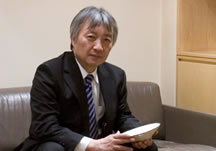 Mitsuru Uragami

Mitsuru Uragami has been collecting "Hokusai Manga" for 45 years, ever since he was attracted to its charm in his school days. His collection now consists of approximately 1,500 volumes and is recognized as being the greatest in the world for both quality and quantity. He is the founder of Uragami Sokyu-do in Nihonbashi, Tokyo, which marks its 40th anniversary this year and deals in works of Asian art, particularly Oriental Ceramics. He sponsored and lent works from his collection for the British Museum's exhibition, "Shunga: sex and pleasure in Japanese art," in 2013. Later, as a key member of the Japan Shunga Exhibition Promotion Committee, he played a central role in organizing the "Shunga Exhibition" at the Eisei-Bunko Museum in 2015.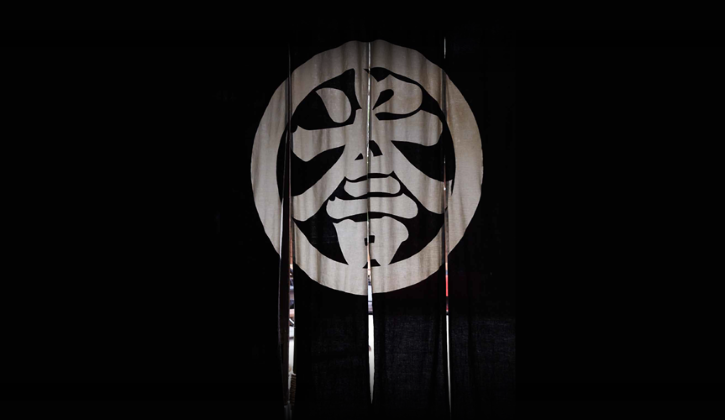 Genbei Yamaguchi

Kondaya Genbei is a long-established manufacturer and purveyor of obi with a history of 280 years. The current head of the company is the tenth-generation Yamaguchi Genbei. A formidable innovator who uses the skills passed down to him through the generations, he has introduced many new products into the world of kimono. His insight about the creation is always go back and forth between ancient Japan and future Japan. He lives in a tradition but what he does is quite avant-garde.
Kondaya Genbei Chikuin-no-Ma

Kondaya, Nishigawa, Sanjo-sagaru, Muromachi-dori, Nakagyo-ku, Kyoto, 604-8165
Recommended Events
おすすめのイベント