Exhibitions
展示情報
05
Teppei Kaneuji
金氏徹平
S.F. (Splash Factory)
Kyoto Shimbun B1F, Former Printing Plant
10:00—17:00|Closed: 4/14, 4/25, 5/9

Co-organizer: Kyoto Shimbun
*Please wear comfortable shoes for walking in the venue.
Admission Free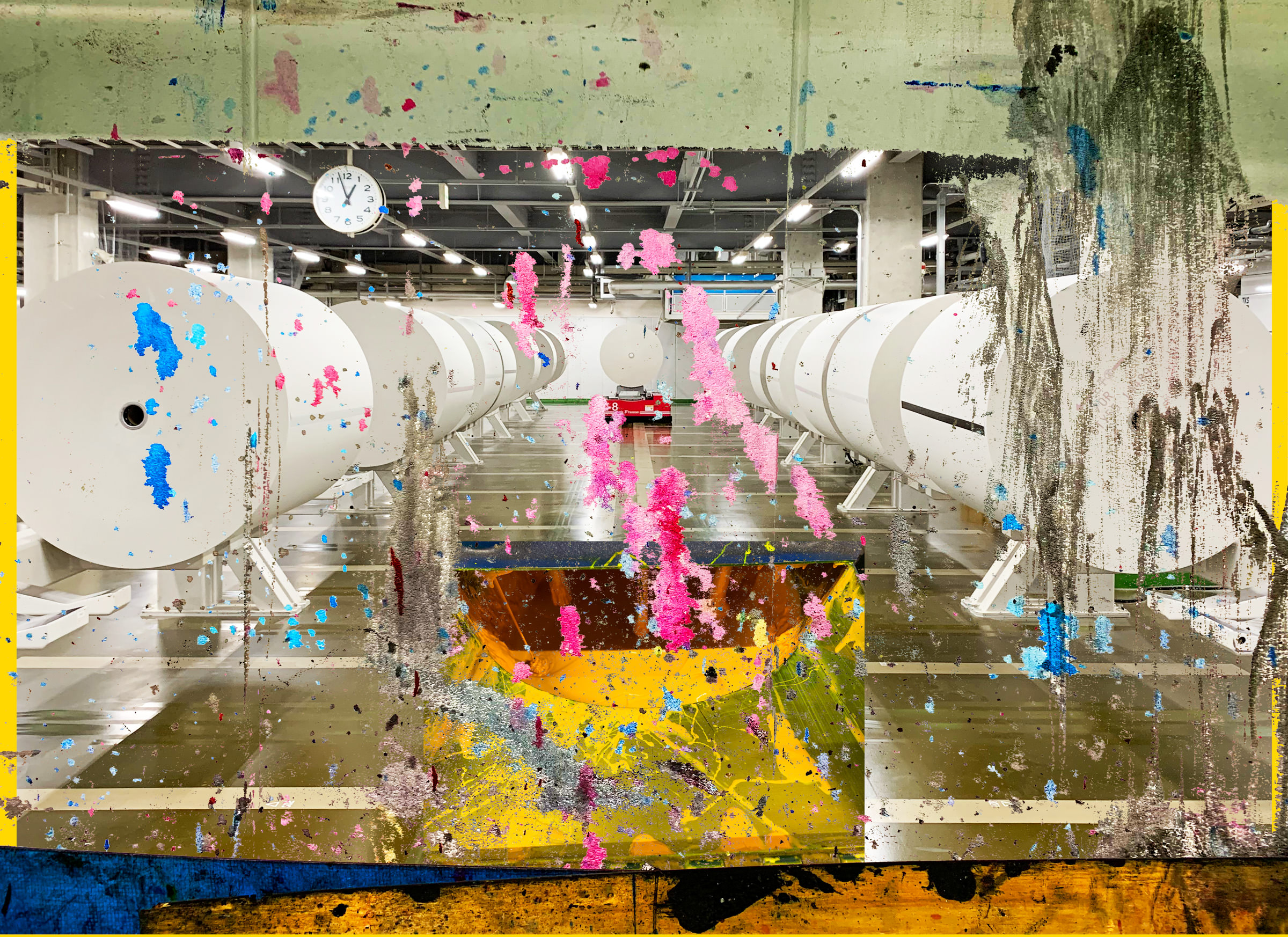 Paper and Liquid #1 © Teppei Kaneuji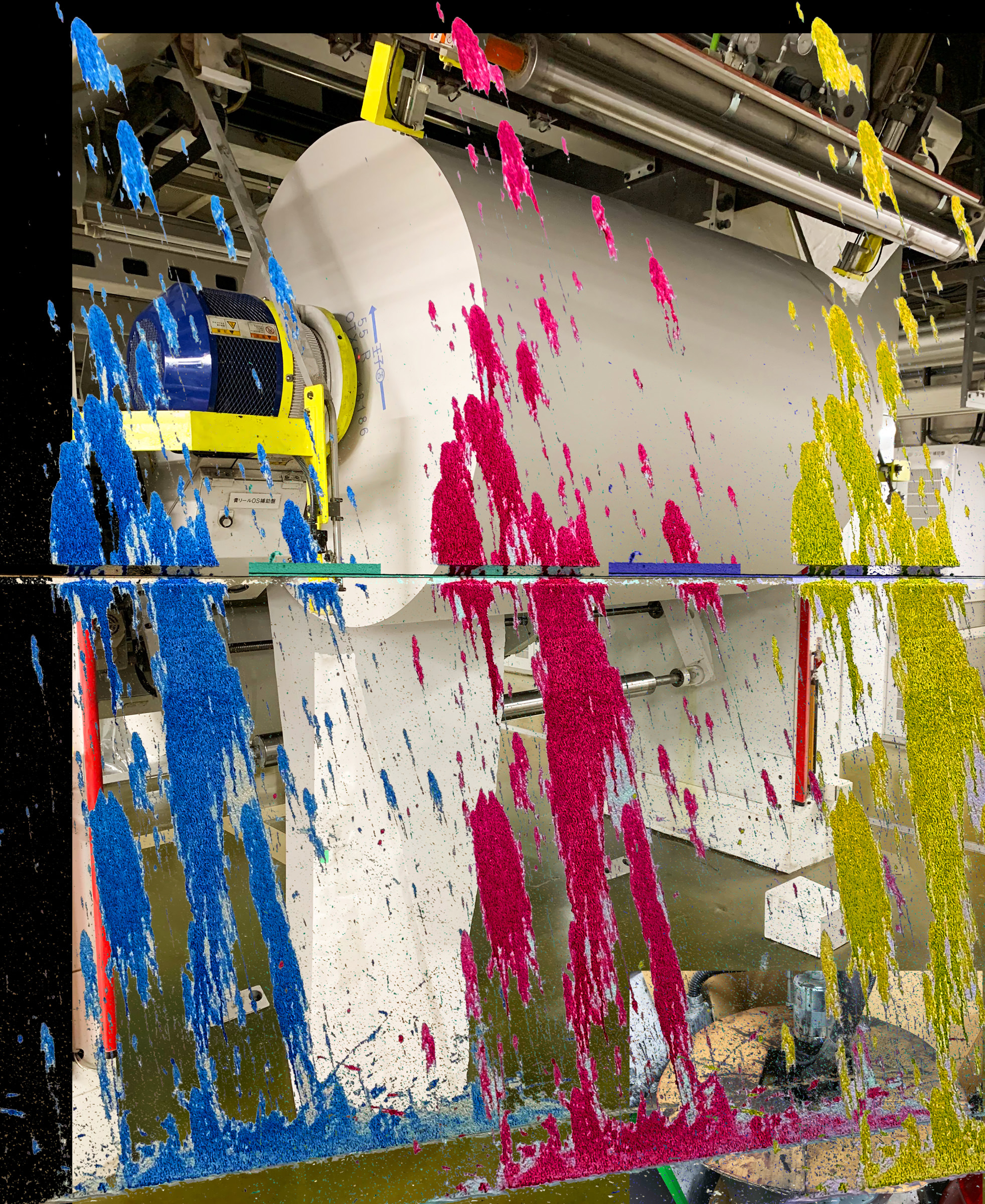 Paper and Liquid #2 © Teppei Kaneuji
Contemporary artist-sculptor Teppei Kaneuji and his sound and video team weave old and new photographs and audio-visual recordings of the former and present print rooms of the Kyoto Shimbun into a massive multimedia installation that combines the art medium of photography with the info-dissemination medium of the newspaper. Focusing on how the global circulation of images and text in the form of ink on paper shapes our worldview and collective memory, Kaneuji likens liquid ink to the lifeblood that circulates around the planet and through all organisms. A bold new alternative vision alive with noise and motion that takes our imagination deep into the body of the beast.
Teppei Kaneuji

Born in 1978, Teppei Kaneuji is an artist and sculptor who lives and works in Kyoto. He earned a graduate degree in sculpture at Kyoto City University of Arts in 2003, where he now teaches as the Associate Professor. He uses things around him as materials for his works, altering their meaning via a collage method that involves cutting off parts and attaching them elsewhere. He has done solo exhibitions at the Yokohama Museum of Art (2009), the Ullens Center for Contemporary Art (Beijing, 2013), Marugame Genichiro-Inokuma Museum of Contemporary Art (2016), and at other venues inside and outside Japan. Since 2011, he has also worked on set design and produced theatrical works in 2012. He received Kyoto City's Best Young Artist Award in 2012, and the Kyoto Prefecture Culture Prize Award in 2015, and The 29th Takashimaya Art Prize in 2018.
Takahiro Kaneshima (Curator)

Born in 1977 and lives in Kyoto. Kaneshima is art producer, and researcher. After receiving his master's degree from Graduate School of Media and Governance at Keio University, Kaneshima worked for NOKIA, TOSHIBA, TOKYO Gallery + BTAP and ART iT. He founded FEC in 2007 and curates exhibitions, coordinates cultural exchange programs, supports artists in creation and researches contemporary art in East Asia. Since 2011, Kaneshima has been the executive director of Art Fair Tokyo and was the artistic director for Art Beijing in 2016. He is now in the PhD course at Kyoto City University of Arts and teaches at Kyoto University of Art and Design.
Kyoto Shimbun B1F, Former Printing Plant

239, Shoshoicho, Ebisugawa-agaru, Karasuma-dori, Nakagyo-ku Kyoto-shi, Kyoto, 604-8577
Subway Karasuma Line "Marutamachi" station. Exit 7